Reflections of Caspian
GHS Exhibit at the Vermont History Expo June 21 – 22, 2014
The Vermont Historical Society's Vermont History Expo 2014 was held at the Tunbridge Fair Grounds on June 21 and 22.  The theme for 2014 was Artists and Artisans and more than 150 historical societies and museums from around the state brought exhibits, demonstrations, music and talks to the fair. The Greensboro Historical Society's exhibit featured Caspian Lake in historical photographs, postcards, watercolor and oil paintings. The high point was a mounted Lake Trout from Willey's Store.
Kenneth Condit (1888 - 1974) Dean of Engineering at Princeton University, spent many summers in Greensboro in a home overlooking Caspian Lake. It was here that he pursued his art. He was particularly noted for his etchings, but also for watercolors such as the one seen here.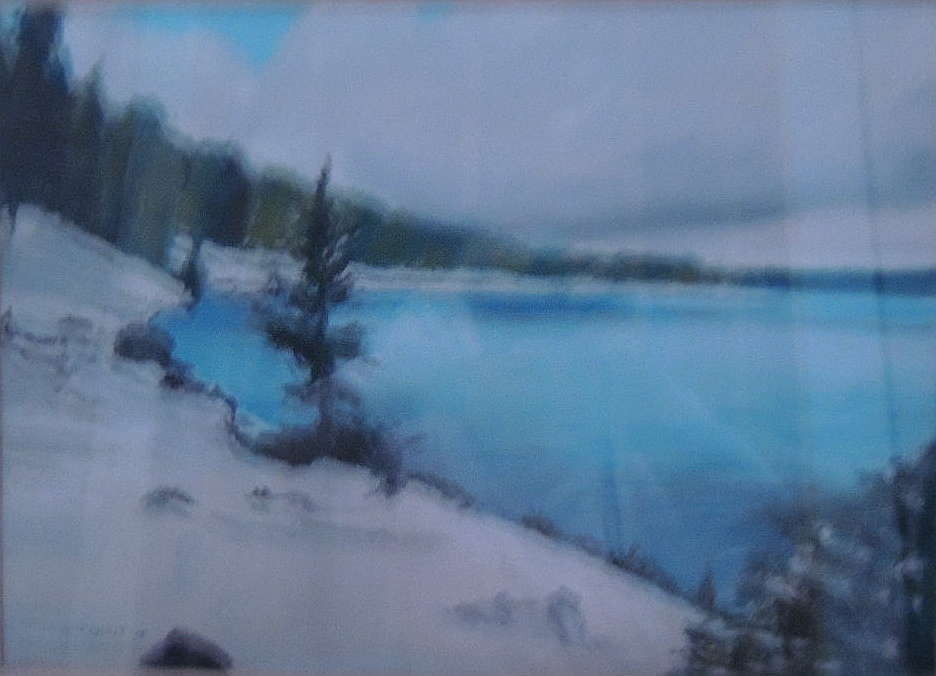 Babette Eisner (1891 - 1975) who painted in oils, was described as a tiny dynamo of energy who raised five children, entertained peers of each, introduced the outdoor cook-out to Greensboro (with the aid of her husband, Noonie), and served as mentor to several younger Greensboro artists. She had her painting hideaway but could be sighted on back roads and in pastures painting in oils and usually surrounded by cows. She was noted to be adept at sliding under barbed wire fences if she wanted a particular view.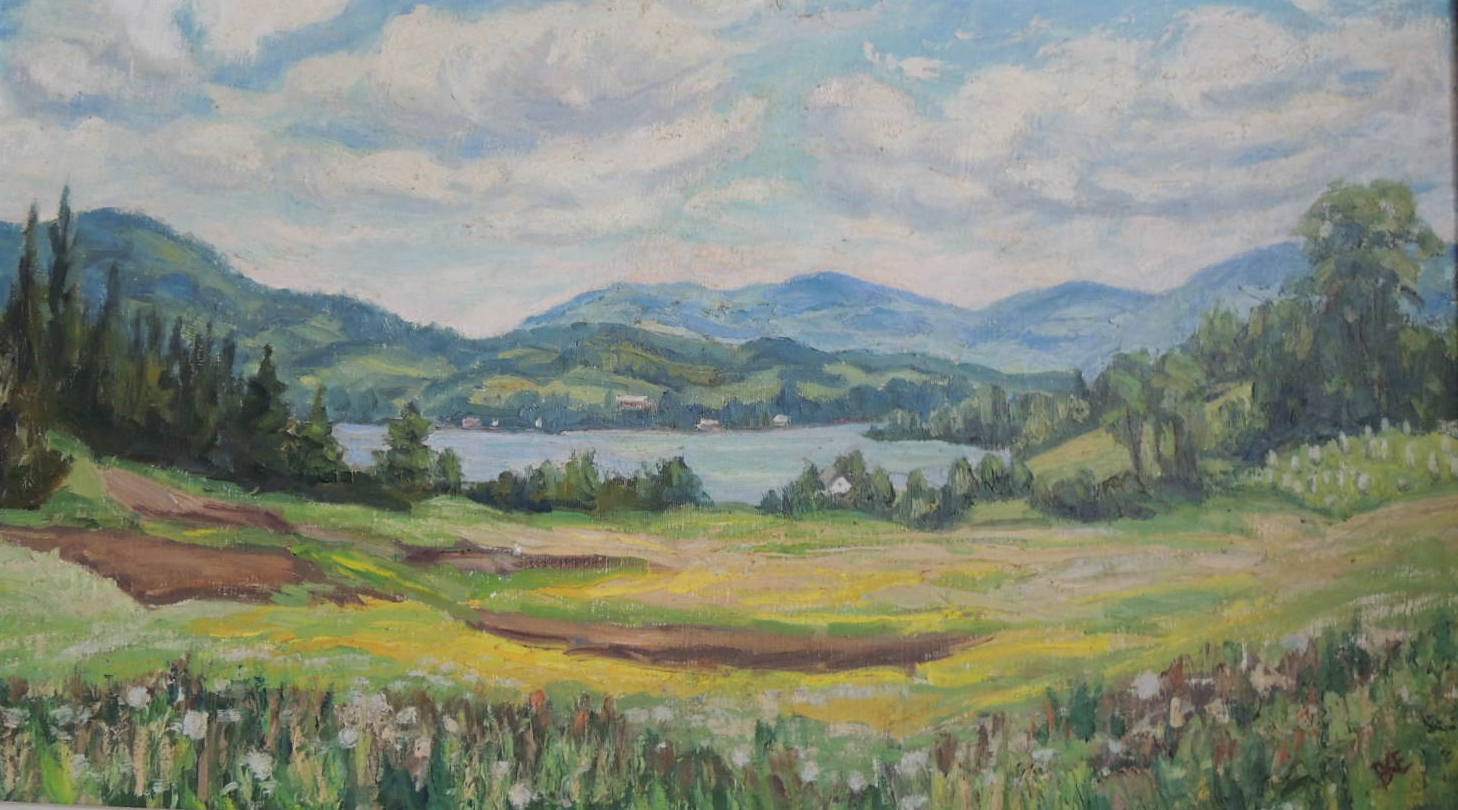 Richard Hannibel was a Pennsylvania hardware store owner and avid sailor. He painted this watercolor from a photograph of Black's Point.
Harold S. Lindquist (1887 - 1968) studied fine art at Cornell University and the NY Fine Arts League. He worked in oils, pastels and watercolors, and exhibited at the Brooklyn Museum in Ogunquit, ME, and the Albright-Knox Gallery in Buffalo, NY. He developed a special technique combining watercolor and pastel in creating beautiful landscapes. Although his special love was snow scenes, he also was lured by the beauty of Caspian Lake.
Frances Day Lukens (1897 - 1961) documented the colors and shapes of the landscapes and buildings of the Greensboro community before and after World War II. Born in Philadelphia, Frances graduated at the top of her class from Bryn Mawr and went on to study architecture at MIT. She and her husband began their annual summer sojourns in Greensboro in 1929 and her children and their families continue that tradition today. During the summers she often painted with her friend Babette (Bobsie) Eisner.
Henry Merrill (1918 - 2012) came to Greensboro in 1950 after serving as Chief Meteorologist for Pan American Airlines. In Greensboro, he operated a large dairy farm, partnered with his brother in his construction and building firm and was active in the Greensboro community. In his retirement he took up photography. Many of his photographs featured Caspian Lake in all seasons.
Margaret Olmstead came to Greensboro as a bride fresh out of art school. She said that Greensboro artists were very kind to her, and Bobsie Eisner really took her under her wing, familiarizing her with good places to paint landscapes and views worth recording. The painting exhibited here shows Caspian Lake from Barr Hill which is now managed by the Nature Conservancy of Vermont.
Helen Jackson Parker (1939 - 2004) became known for both her watercolors of Caspian Lake and for note cards sold at Willey's Store, the Miller's Thumb and local inns and hotels. She was originally from the Bronx, New York.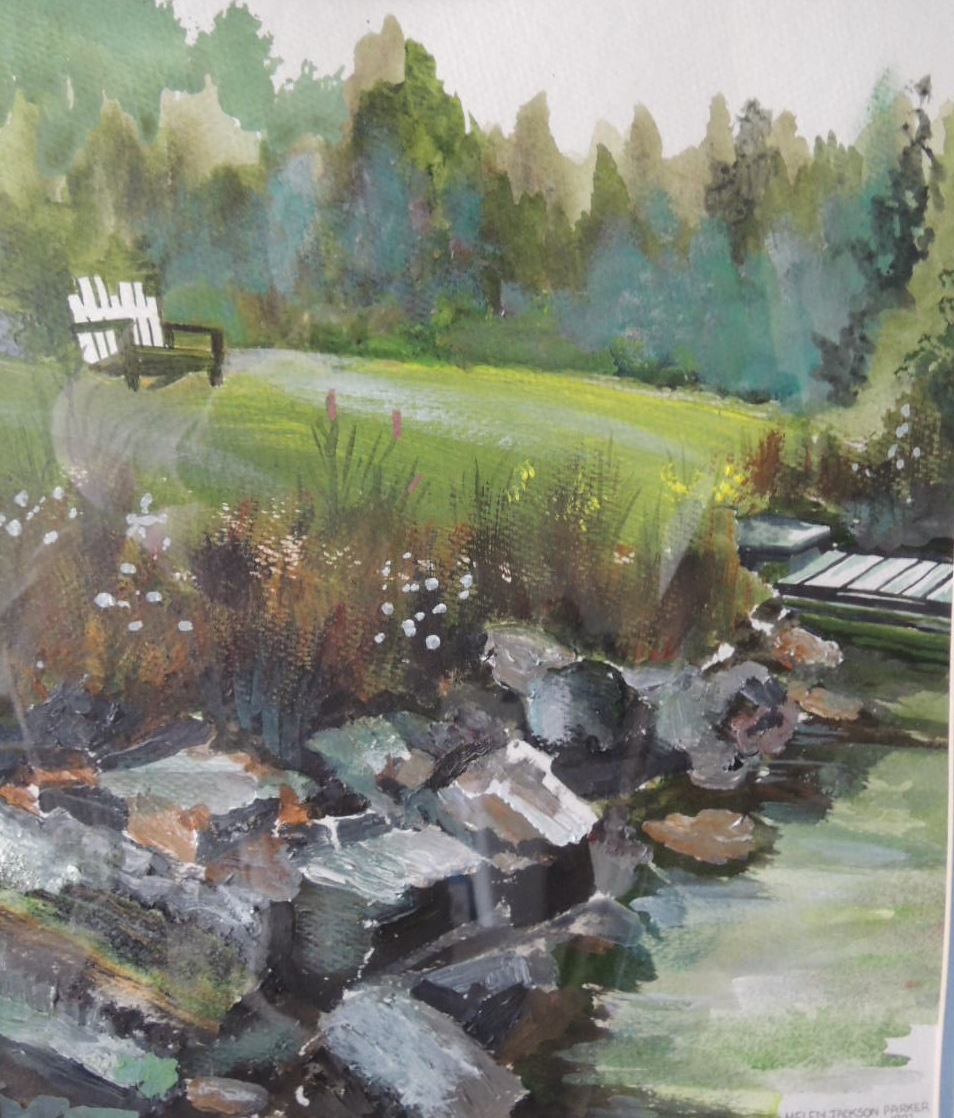 Professional photographer Charles Sawyer took photographs in Maine, New Hampshire and Vermont mainly in the 1920s and early 1930s. He had a studio in Concord, NH, where he had colorists who hand-painted the black and white photographs which were then signed, framed and sold. This photograph was taken of Caspian Lake from the same point as several paintings and many of the postcards, some of which are also hand-colored.
J. Sydney Stone is most likely the photographer who took this picture of sailboats on Caspian Lake in 1962. The large Flying Dutchman which he had given to his son John is seen prominently front and center, surrounded by many Sunfish.
Elizabeth Urban was one of several painters and photographers who chose the Northwest part of Caspian Lake, called Campbell Corner, for their artistic creations. Elizabeth's son, John Urban, was a highly regarded photographer.
John Urban, son of Elizabeth Urban, was a professional photographer who summered in Greensboro for many years.
Postcards selected from the Greensboro Historical Society collection.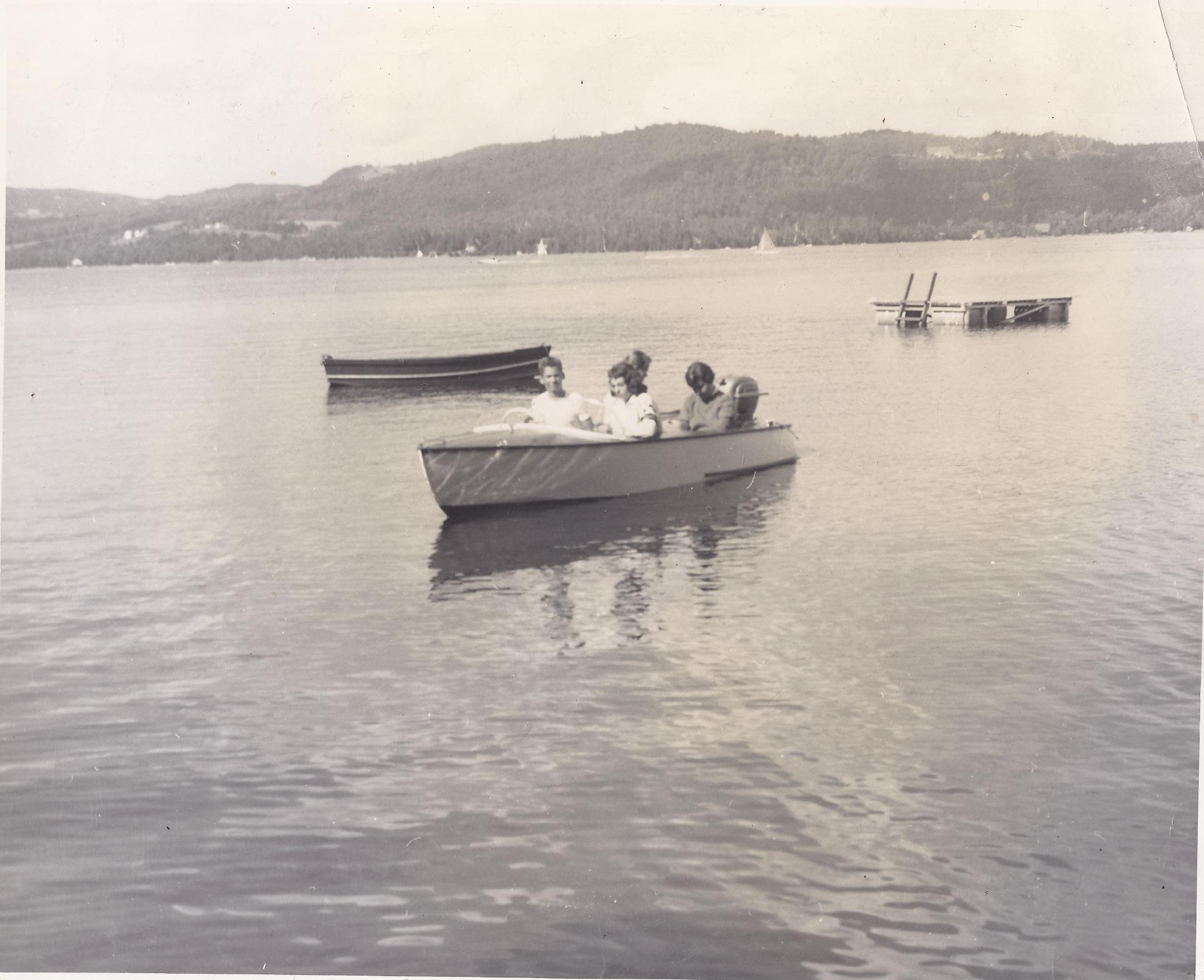 The Greensboro Historical Society thanks the contributors to the exhibit:
Andy and Judy Dales
BJ Gray
Clive Gray
Highland Lodge
Tom Hurst
Gina Jenkins
Deborah Kasper
Willie Smith
The Willeys Store
Tom and Barbara Woodward