1995 Summer Exhibit: "Barns of Greensboro"
(as compiled by David Perham)
The Greensboro Historical Society's 1995 Summer Exhibit/Activity/Presentation
---
In 1995, the Greensboro Historical Society compiled a list of then-present barns in Greensboro and collected information from many of their owners. Below, please find a scrapbook of information that represents the exhibit at the GHS museum.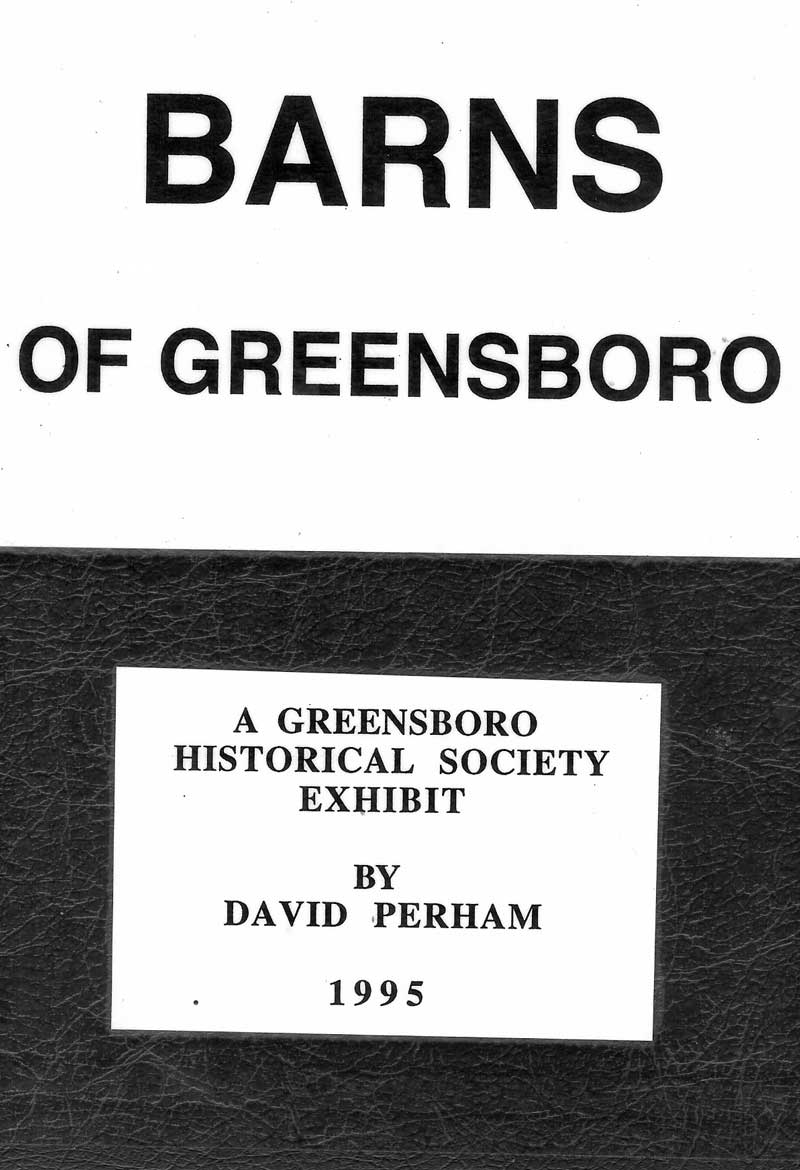 Click here for PDF of the
"Barns of Greensboro" exhibit scrapbook
When: 1995 Summer (Open Barn Tours on August 8th)
Where: Exhibit at GHS Museum and presentation at Fellowship Hall of the Greensboro United Church of Christ


Map of Greensboro Barn Locations

 
---
Click on the images below to enlarge.
Click on the number (right) to return to the map.
---
- 1 -


Lorraine and Andy; Marjorie and Brett Urie

(Dairy Farm)

 
- 2 -

Georgia (Mrs. Lester) Collier

(Home)

 
- 3 -

Peter and Kathy Watson; Ian and Felicity Davidson

(Vacation Home) 

 
- 4 -

Erica Karp

(Home)

 
- 5 -

Rob Mermin

(Circus Barn) 

 
- 6 -

Houghton Freeman

(Sheep Dairy - 1996)

 
- 7 -

Peter Gebbie

(Dairy Farm)

 
- 8 -

Clifford and Rachel Lapierre Fletcher (est. exec)

Dairy Farm - Allen Davis

 
- 9 -

Jack and Mary Witherbee

Vacation Home

 
- 10 -

Bill and Trish Alley
(Tom and Beryl Smith...also known as Atherton Barn)

(Home)

- 11 -

Jim and Charlene Ramsay

(Dairy Farm)

- 12 -

Mark and Mary McGrath

(Sugaring, Homestead Farm)

- 13 -

Harold and Janet Hill (owned by Gray)

(Dairy Farm)

- 14 -

Sherral and Larry Lumsden

(Dairy Farm)

- 15 -

Ted and Ida Perron; Alice Perron and MacNeil

(Dairy Farm)

- 16 -

Glen and Eva Olds

(Vacation Home)

- 17 -

Jim and Juliana McIntyre

(Vacation Home)

- 18 -

Steve and Jennie Hislop

(Homestead Farm)

- 19 -

Jim and Sidney Sowles

(Vacation Home)

- 20 -

Bill and Martha Niemi

(Home - Longhorn cattle, Horses)

- 21 -

Jennifer Ranz
(aka "Sunday School Barn")

(Home)

- 22 -

Leo Shatney

(Dairy Farm - Scottish Highlanders)

- 23 -

Erwin and Wilfrieda Salls

(Home)

- 24 -

Rosanna and Charles Jaffin

(Vacation Home)

- 25 -

John and Marcia Stone

(Heifer housing - Allen Davis)

- 26 -

Tanya Thomas and Steve Sanford

(Home and Veterinary Clinic, Horses)

- 27 -

Bruce and Nancy Buckley

(Home - Horses)

- 28 -

Thomas Hill

(Dairy Farm)

- 29 -

George and Beverly Young

(Dairy Farm)

- 30 -

G Young

(Heifer housing - G. Young)

- 31 -

Arthur Ling

(Dairy Farm)

- 32 -

Winfield and Carol Thomas

(Homestead farm)

- 33 -

Lessig

(Home)

- 34 -

Donahue

(Homestead farm)

- 35 -

Surviva LTD

(in process of refurbishing)

- 36 -

Gerald and Erna Bartlett

(Dairy farm)

- 37 -

Perley (dec) and Mayville Gonyaw

(Home)

- 38 -

Raymond and Yvonne (Mrs. Alec) Messier

(Home, Hay storage)

- 39 -

Jack Silver

(Hay storage)